The Office Cast
Paul Lieberstein
as Toby Flenderson

There is not much information on Paul but I'll keep searching. Maybe I'll contact him and he'll grant us an interview.
Birthday: Unknown
Born: Unknown
Current Residence:Unknown
Marital Status: Single
Education: Graduated from Hamilton College in New York
Filmography: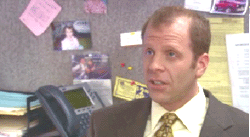 The only role he has had as an actor is that of Toby. However he has written for the following TV series; The Office, Greg the Bunny, King of the Hill, The Naked Turth, and Weird Science. He also been co-producer for some of the episodes of The Office, The Bernie Mac Show, King of the Hill, and The Drew Carey Show.
Meet all the office cast