The Office Cast
Jenna Fischer

as Pam Beesley
Birthday: March 7, 1974
Born: Ft. Wayne, Indiana
Current Residence: Los Angeles
Marital Status: Married
Education: Graduated from Truman State University in Missouri
Other Interesting Facts: Jenna originally aspired to be a veterinarian because she loves animals so much. She is married to James Gunn who is the brother of the actor who plays Kirk on Gilmore Girls. Her birth certificate actually has her name listed as Regina Marie Fischer. Jenna has a cat named Andy and a dog she calls Wesley.
Filmography: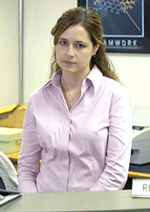 Quebec; 2007
Blades of Glory; 2007
Slither; 2006 - Shelby
The 40 Year Old Virgin; 2005 - Woman #1
Six Feet Under TV Show; "Dancing For Me" episode - Sharon Kinney
Six Feet Under TV Show; "A Coat of White Primer" episode - Sharon Kinney
That 70s Show TV Show; "Don't Lie To Me" - Stacy Wanamaker
Lucky 13; 2005 - Sorority Girl #1
LolliLove; 2004 - Jenna
Cold Case TV Show; "Factory Girls" - Dottie 1943
The Women; 2004 - Leslie
Employee of the Month; 2004 - Whisper
Miss Match TV Show; "Kate in Ex-tasy" - Connie
Strong Medicine TV Show; "Maternal Mirrors" - Camille Freemont
Melvin Goes to Dinner; 2003 - Hostess
Rubbing Charlie; 2003
What I Like About You TV Show; "Copy That" episode - Kim
Off Centre TV Show; "The Backup" - Melanie
Superficiales, Les; 2002 - Bitchy French Girl
Picking up Chicks with Harland Williams; 2001 - Dog Walker #1
Unclared TV Show; "Sick in the Head" episode - Betty
Unclared TV Show; "Pilot" episode - Betty
Spin City TV Show; "A Shot in the Dark PArt 2" - Waitress
The Specials; 2000 - College Girl
Channel 493; 1998 - Rane
Born Champion; 1998 - Wendy Miller
Awards
Screen Actors Guild Award Emerging Actor 2005 for LolliLove (She wrote, directed and starred in the movie)
#37 in People's 2006 "100 Most Beautiful People"
Meet all the office cast