The Office Cast
Oscar Nunez

as Oscar Martinez
Birthday: November 18
Born: Cuba, raised in Union City, New Jersey
Current Residence: Los Angeles
Marital Status: Married
Education: Attended various colleges.
Other Interesting Facts: He was a finalist in the 1999 ABC Latino Writers Project. In 1997, he graduated from the Warner Brother's Comedy Writer's Workshop. Oscar has a pet mini-schnauzer he calls Lila. Oscar has an array of education attributes. He attended the Magna Institute of Dental Technology and became a certified dental technican. He also attended F.I.T. for fashion and for writing the Parsons School of Design.
Filmography: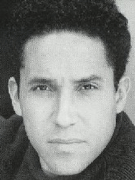 Glory Road; 2006 - Locker Room Janitor
The Bad Girl's Guide TV Show; "The Guide to Switching Partners" - Melicio
The Bad Girl's Guide TV Show; "The Guide to Procrastination" - Melicio
The Chipotle Diamonds; 2005 - Abuelo
When do we eat?; 2005 - Santa Designer
Last Laugh 2004; 2004 - Latino Man
24 TV Show; "Day 3: 6:00p.m. - 7:00p.m."
Reno 911 TV Show; "Terrorist Training Part 1 & 2" - Captain Dwayne Hernandez
The Italian Job; 2003 - Security Guard
Still Standing TV Show; "Still Hairdressing" - Tim
Sun Gods; 2002 - Concepcion
Curb Your Enthusiasm TV Show; "Interior Decorator" - Parking Lot Attendant
Meet all the office cast